WindStax President co-leads CEOs for Sustainability to Advance Economic and Social Prosperity
Pittsburgh, PA – June 20, 2017
WindStax® and other Pittsburgh Region corporate leaders know sustainability is good for business and quality of life. Launches CEOs for Sustainability
Recognizing the strong link between business sustainability performance, financial performance, and regional quality of life, CEOs from throughout the Pittsburgh region have established the CEOs for Sustainability executive council. The effort is Co-chaired by WindStax Energy Founder and CEO Ron Gdovic and Covestro LLC President Jerry MacCleary.
CEOs for Sustainability was founded to provide a forum for CEOs of the region's leading companies to share best sustainable business practices and collaborate in growing the ranks of those around the region that enjoy the benefits of a triple bottom line — for people, planet, and profits. The CEOs recognize that prosperous businesses are the foundation of a successful, strong region.
The vision: CEOs for Sustainability is exemplary executive leadership and collaboration to drive positive change in the region. By demonstrating responsibility and creativity in the use of precious resources (human, natural, energy, capital and materials), we ensure enduring economic and social prosperity for our businesses and for our regional community.
CEOs for Sustainability is an outcomes-based leadership network. The group is facilitated by Bill O'Rourke, the former Vice President of Sustainability, Environment, Health and Safety at Alcoa and a former Sustainable Pittsburgh Board Chair. Sustainable Pittsburgh provides staffing coordination in concert with its Champions for Sustainability business network. To find out more about participation visit CEOs for Sustainability.
###
Energy Flow honored as exemplary public art work by Americans for the Arts

Pittsburgh, PA – June 16, 2017

Energy Flow – a dynamic lighting display spanning the Allegheny River in Pittsburgh installed and powered by WindStax® wins national public arts honor.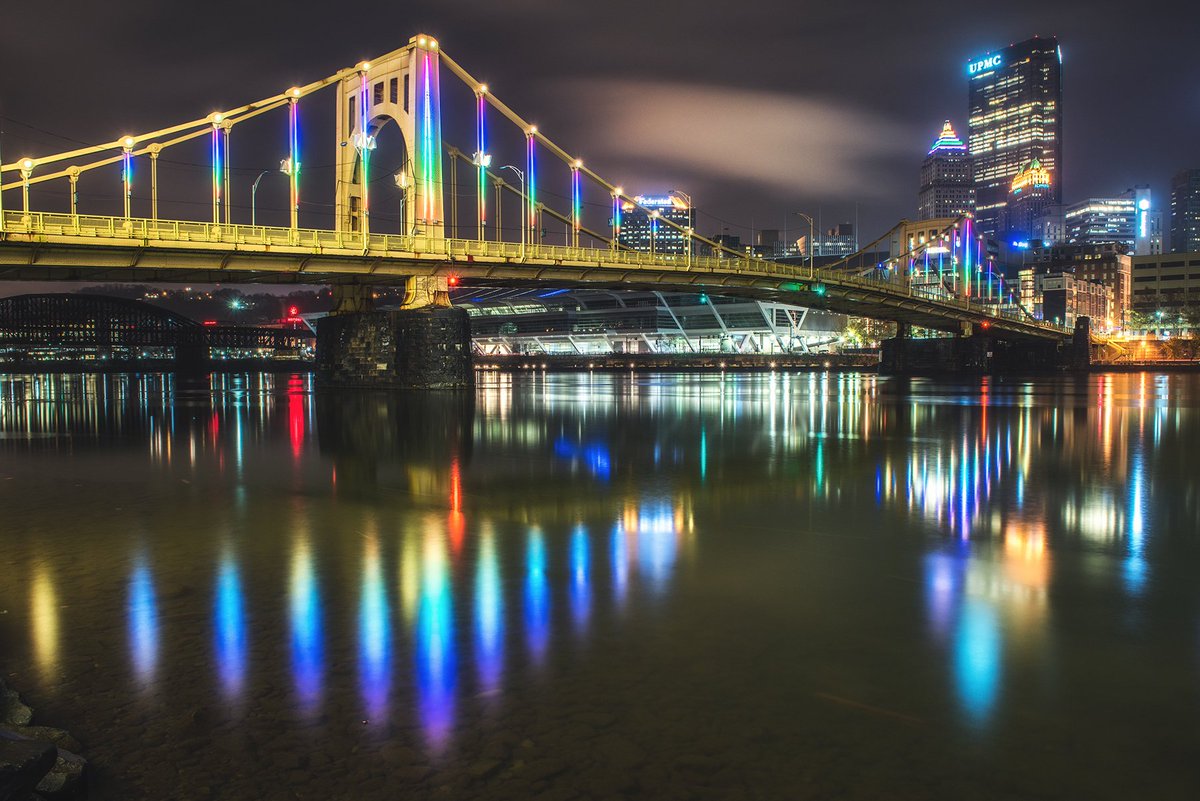 Image by Dave DiCello
Americans for the Arts today honors 49 outstanding public arts projects created in 2016 through the Public Art Network Year in Review program, the only national program that specifically recognizes the most compelling public art. Chosen by a jury from 325 entries representing communities across the country, the roster of winning projects was unveiled at Americans for the Arts' 2017 Annual Convention in San Francisco. 
 
Three independent public art experts presented their choices for the most exemplary, innovative permanent or temporary public art works created or debuted in 2016. The art works selected for Year in Review can be seen on this page. This is the 16th year that Americans for the Arts has recognized public art works.
###
WindStax Eyes Emerging Markets in Africa for Distributed Energy

Pittsburgh, PA – March 15, 2017

WindStax® announced a distribution agreement with BJM International to provide financial services and distribution of their alternative energy systems in Africa.
WindStax Wind Power Systems will expand its footprint to emerging markets in Africa through a distribution agreement with BJM International. With offices in New York and Casablanca, BJM is uniquely positioned to add WindStax wind and hybrid energy products to its portfolio of alternative energy interests. WindStax manufacturers the largest vertical axis turbines in the US and is a pioneer of microgrids combining wind, solar, and traditional energy generation to smooth cycles of supply and demand. BJM has extensive experience with commercial and development banks and export credit agencies globally.
Wind energy development is soaring in Africa. However, soaring growth has met constraints with the utility grid. Countries on the continent have shown some progress in adopting alternative energy due to similar infrastructure issues of legacy distribution. WindStax's microgrids help overcome these hurdles by generating and storing energy close to the point of consumption. "This model of distributed generation is new to the US but a necessity in developing countries. Imagine the benefit to a remote hospital or fueling station generating its own power without relying on diesel generators to operate", says Bruno Mejean, founder and managing partner of BJM International.
"We are thrilled with the opportunity to make an important positive impact in these countries where clean and reliable energy has a direct impact on quality of life." says Ron Gdovic, CEO of WindStax. BJM will provide project development, financing, export assistance, and distribution services, relying on local contractors for installation and service of the systems. WindStax will provide design, products, and technical support in the arrangement.
About WindStax – WindStax offers an affordable, functional, and exciting green energy alternative to fossil fuels. WindStax manufactures the largest vertical wind turbines in the US and is a pioneer in microgrids. Their systems make wind energy feasible in overlooked markets. WindStax' systems are unobtrusive and generate and store power to replace generators, leaving utility power as a back up with ZeroFirst® technology. (http://windstax.com)
About BJM International – BJM International, Inc. provides project finance and export finance advisory services in the energy and infrastructure sectors in emerging markets, where its extensive experience is most relevant. (http:// www.bjminternational.com)
###
Vertical turbines maker WindStax plans to expand in US, abroad

Pittsburgh, PA – November 23, 2016

Pennsylvania-based
WindStax® Wind Power Systems, a designer, manufacturer and installer of large vertical wind turbines, plans to expand US footprint next year and is already exploring opportunities overseas.
Renewables Now by author Ivan Shumkov
Ronald Gdovic, the company's president and CEO, says WindStax' competitive advantage lies in the complete wind/solar hybrid microgrid systems it provides for distributed energy projects in areas where traditional wind turbines cannot be installed.
The WindStax system uses vertical turbine generators and batteries to produce and store energy for up to several days. If power demand proves to be too high, the system reverts to utility power.
WindStax is currently carrying out feasibility studies for several micro-wind farms under 5 MW in the US, Gdovic told SeeNews Renewables.
The firm plans to concentrate on commercial projects in-house and residential installations through a network of distributors in key markets both at home and abroad. At present, its project portfolio is approximately 80% commercial and 20% residential, the CEO said.
To date, WindStax has installed wind turbines in Pennsylvania and Virginia, and expects to execute commercial projects in Ohio next year. Also, it will be looking for distributors in New York.
Just recently, the company concluded a project known as Energy Flow in Pittsburgh. In particular, it installed 16 units of the 300-W WindStax vertical axis turbines at the Rachel Carson bridge, forming a microgrid comprised of four nano grids. The 4.8-kW installation now powers оver 27,000 multicoloured LED lights on the bridge. Energy Flow is expected to produce about 10,800 kWh of electricity annually, enough to power one typical US home. The project was sponsored by global material solutions provider Covestro.
When it comes to international markets, earlier this year WindStax shipped one of its systems for the Camp Lemmonier base in Djibouti, Africa, under a contract with the US Navy. The company also delivered a commercial turbine to Bahrain and is currently exploring distribution opportunities throughout the UAE.
WindStax produces its turbines in Pittsburgh, Pennsylvania and has a third-party fabrication and supply chain that is capable of manufacturing 50 units a month. The company targets USD 8 million (EUR 7.5m) in revenue for 2017. (USD 1.0 = EUR 0.945)
###
Energy Flow comes alive on Comcast Pittsburgh Light Up Night

Pittsburgh, PA – November 18, 2016

Energy Flow was revealed tonight bringing the Rachel Carson bridge to life.
WindStax® provided and installed an advanced microgrid and 16 unique wind turbines to power 27,000 LED lights on both sides of the bridge.
Lighting design by Andrea Polli, Chris Clavio and a team of programmers. Energy Flow takes queues from the environment to influence the dynamic display. LED lighting changes with weather conditions measured from a weather station on the bridge. Wind energy powering the lights varies as wind density changes. Cold, fast winds have more energy than warm fast winds for example. Energy Flow reacts with faster and warmer patterns and turbine lighting becomes more lively as they produce more energy.​
.
Read more about how wind energy is working on the bridge including a link to live data at Riverlife News
The display will be running through the holiday season. UPDATE – The display will run through 2018.
###
Pittsburgh Bicentennial Commission Announces Collaboration with Covestro, Environmental Artist Andrea Polli and WindStax

Pittsburgh, PA – July 26, 2016

WindStax® to install a dynamic digital light display powered by wind energy on the historic Rachel Carson bridge on a grand scale in Pittsburgh.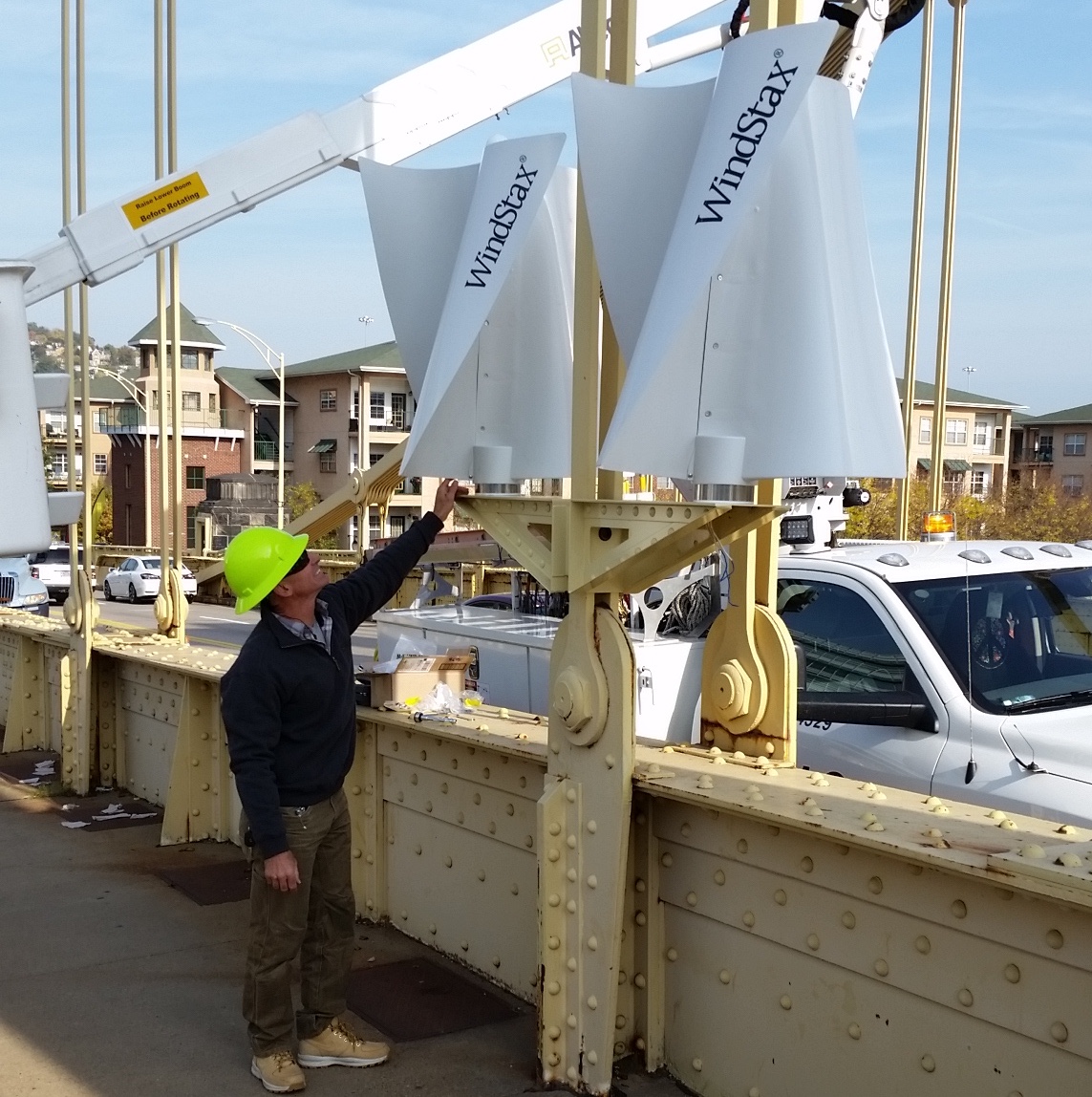 WindStax is thrilled to announce that we won an international competition to light up the historic Rachel Carson Bridge in Pittsburgh with renowned environmental artist Andrea Polli and Ron Gdovic. The digital art display will span both sides of the 840′ structure and utilize our vertical axis turbines and nanogrids to power the exhibit entitled "Energy Flow". Read the Riverlife announcement at Riverlife News
Read the City of Pittsburgh's press release at Office of Mayor William Peduto
The display will be unveiled to the public on Pittsburgh Light Up Night November 18, 2016.
###