Renewables Now by author Ivan Shumkov
Ronald Gdovic, the company's president and CEO, says WindStax' competitive advantage lies in the complete wind/solar hybrid microgrid systems it provides for distributed energy projects in areas where traditional wind turbines cannot be installed.
The WindStax system uses vertical turbine generators and batteries to produce and store energy for up to several days. If power demand proves to be too high, the system reverts to utility power.
WindStax is currently carrying out feasibility studies for several micro-wind farms under 5 MW in the US, Gdovic told SeeNews Renewables.
The firm plans to concentrate on commercial projects in-house and residential installations through a network of distributors in key markets both at home and abroad. At present, its project portfolio is approximately 80% commercial and 20% residential, the CEO said.
To date, WindStax has installed wind turbines in Pennsylvania and Virginia, and expects to execute commercial projects in Ohio next year. Also, it will be looking for distributors in New York.
Just recently, the company concluded a project known as Energy Flow in Pittsburgh. In particular, it installed 16 units of the 300-W WindStax vertical axis turbines at the Rachel Carson bridge, forming a microgrid comprised of four nano grids. The 4.8-kW installation now powers оver 27,000 multicoloured LED lights on the bridge. Energy Flow is expected to produce about 10,800 kWh of electricity annually, enough to power one typical US home. The project was sponsored by global material solutions provider Covestro.
When it comes to international markets, earlier this year WindStax shipped one of its systems for the Camp Lemmonier base in Djibouti, Africa, under a contract with the US Navy. The company also delivered a commercial turbine to Bahrain and is currently exploring distribution opportunities throughout the UAE.
WindStax produces its turbines in Pittsburgh, Pennsylvania and has a third-party fabrication and supply chain that is capable of manufacturing 50 units a month. The company targets USD 8 million (EUR 7.5m) in revenue for 2017. (USD 1.0 = EUR 0.945)
###
Energy Flow comes alive on Comcast Pittsburgh Light Up Night
Pittsburgh, PA – November 18, 2016
Energy Flow was revealed tonight bringing the Rachel Carson bridge to life. WindStax® provided and installed an advanced microgrid and 16 unique wind turbines to power 27,000 LED lights on both sides of the bridge.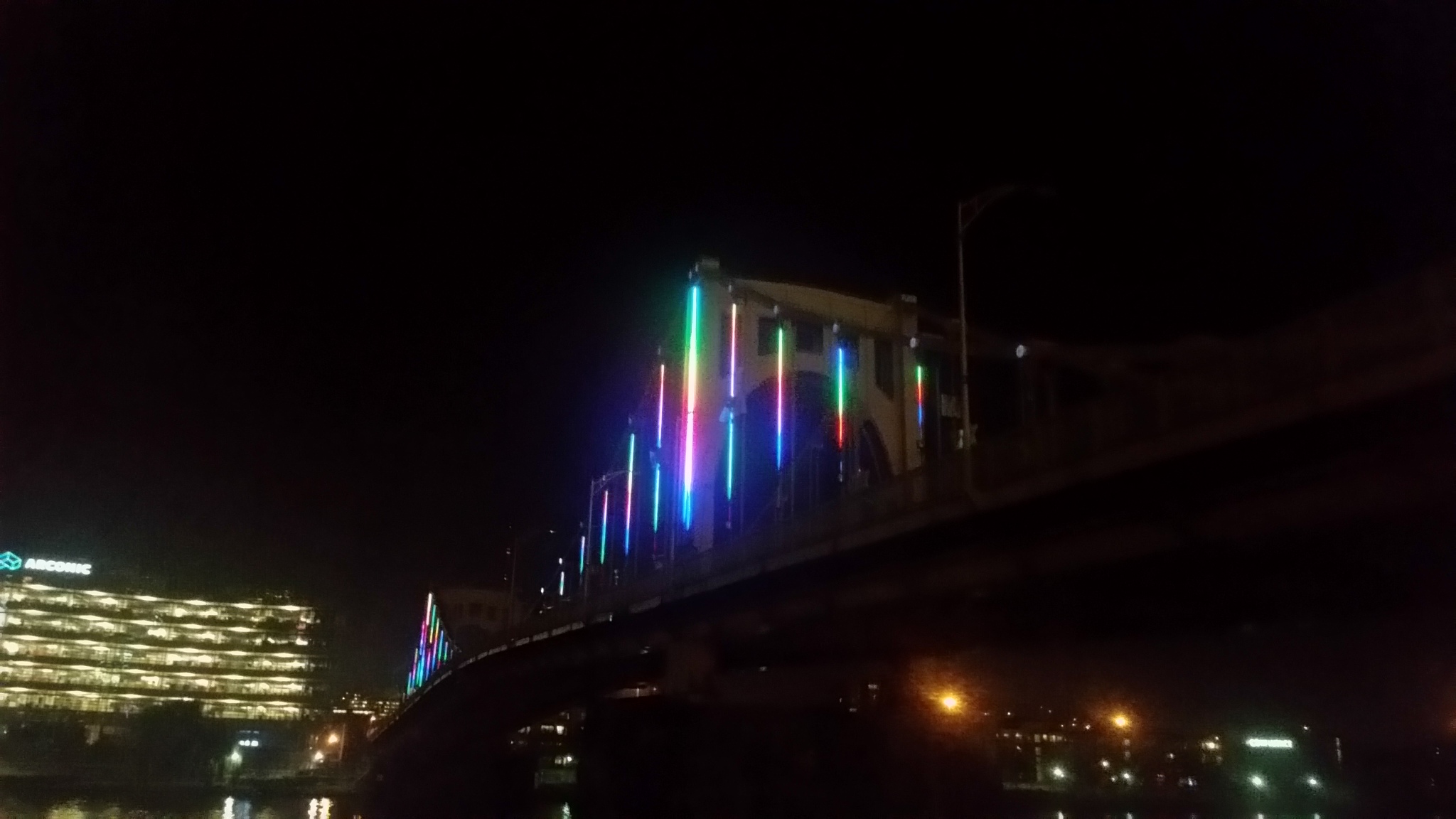 Lighting design was done by Andrea Polli, Chris Clavio and a team of programmers. Energy Flow takes queues from the environment to influence the dynamic display. LED lighting changes with weather conditions measured from a weather station on the bridge. Wind energy powering the lights varies as wind density changes. Cold, fast winds have more energy than warm fast winds for example. Energy Flow reacts with faster and warmer patterns and turbine lighting becomes more lively as they produce more energy.​
.
Read more about how wind energy is working on the bridge including a link to live data at Riverlife News
The display will be running through the holiday season. UPDATE – The display will run through 2018.
###
Pittsburgh Bicentennial Commission Announces Collaboration with Covestro, Environmental Artist Andrea Polli and WindStax
Pittsburgh, PA – July 26, 2016
WindStax® to install a dynamic digital light display powered by wind energy on the historic Rachel Carson bridge on a grand scale in Pittsburgh.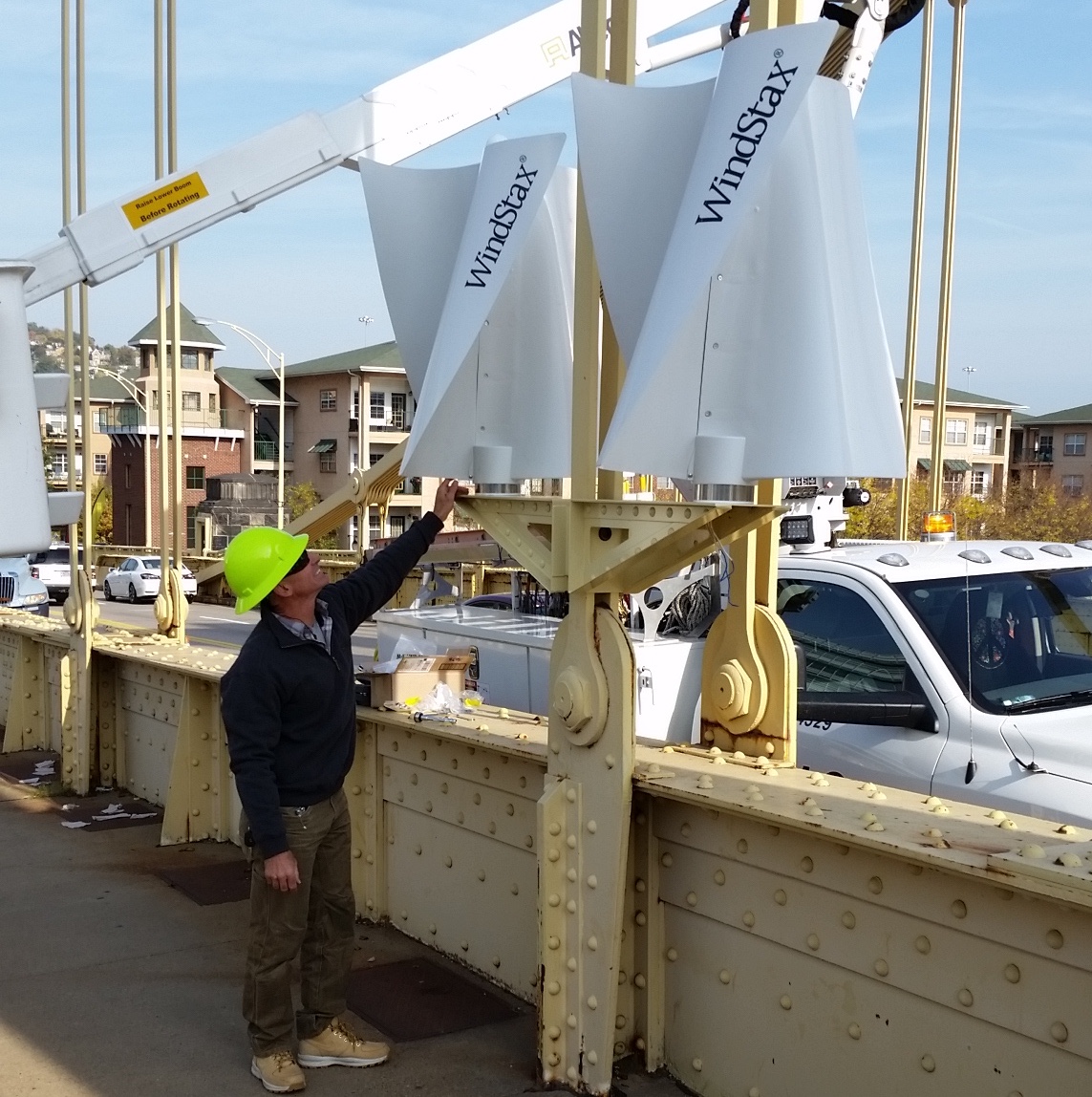 WindStax is thrilled to announce that we won an international competition to light up the historic Rachel Carson Bridge in Pittsburgh with renowned environmental artist Andrea Polli and Ron Gdovic. The digital art display will span both sides of the 840′ structure and utilize our vertical axis turbines and nanogrids to power the exhibit entitled "Energy Flow". Read the Riverlife announcement at Riverlife News
Read the City of Pittsburgh's press release at Office of Mayor William Peduto
The display will be unveiled to the public on Pittsburgh Light Up Night November 18, 2016.
###