WindStax offers complete wind energy and wind and solar hybrid solutions. We design, fabricate, install, and service systems in the US and select international markets. We do some large residential projects but our focus is on commercial projects ranging from one building to community-wide microgrids and small-scale wind farms.
To compliment our alternative energy systems, WindStax is a distributor for VSP generator alternatives. The VSP combines a complete energy management system with 14kW battery storage in one easy-to-use, turnkey, compact unit. This "one cart solution" has several key functions in one: An uninterrupted power source; a 6kW portable inverter (18kW peak); a residential or commercial backup system, and a renewable energy control station. You can also purchase or rent them pre-loaded with wind energy.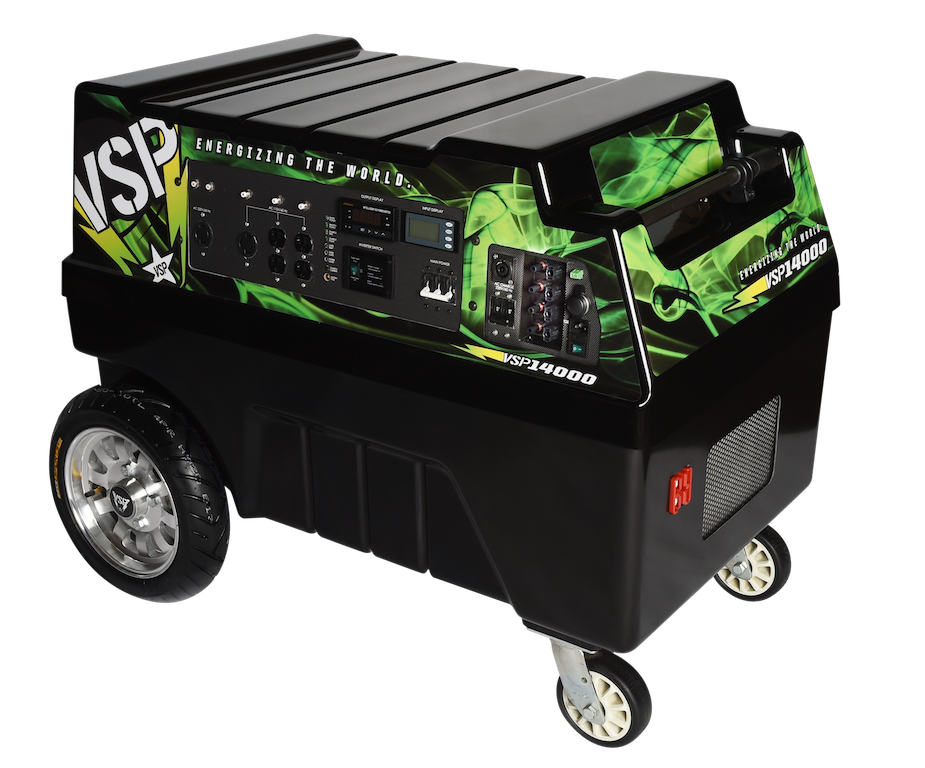 The brochure of the amazing versatile VSP generator alternative is here (PDF 8.8Mb)
Our core wind product is based on our patented aluminum rotor design within a free standing steel frame. Our WindStax 20 and WindStax 40 are the largest commercially available vertical axis turbines made in the US. Because we are the manufacturer, each turbine is built to order including custom colors, gearing, and electronics for specific projects. The turbines are approximately 20′ and 40′ tall installed respectively. See the Questions section for current specifications.
We also offer a smaller turbine 36″ diameter by 42″ tall made from fiber reinforced polymer. Information on the WindStax 3.0 is here. Primarily for nano grid and off grid use, we also have a stand alone street light that uses wind and solar energy to run high lumen outdoor lighting. Our QuadPodTM is a 1.2kW system that uses four WindStax 3.0's for a tool-less installation on any ISO container. Perfect for containerized living units, cabins, and tiny houses.
WindStax' current product line up with technical specifications and retail pricing is here (PDF 3.2Mb). Contact us for purchase and rental prices for VSP generator alternatives.
Call or Contact Us for current pricing and availability. If you want to do it yourself, you can benefit by purchasing a kit including turbine, solar panels, electronics, and batteries matched to your specific needs – that is free engineering.