WindStax Energy is a full-service developer of integrated alternative energy solutions. The company is a pioneer in large vertical wind turbines and microgrids that are changing industry's perspective of energy as a commodity to energy as an opportunity.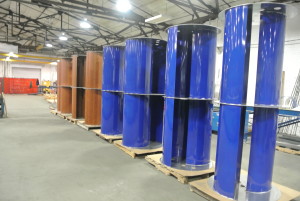 Alternative Energy Done Differently

WindStax designs, manufacturers, and installs the largest vertical axis turbines in the US. This experience has made us a pioneer of microgrid systems that combine wind, solar, and traditional energy generation with storage to smooth cycles of supply and demand. While our large vertical wind turbines were the cornerstone of the Pittsburgh company, 2016 proved to be a landmark year with increased demand for turn key commercial energy solutions. To better reflect the expanded scope and systems approach to alternative energy, we now do business as WindStax Energy.
WindStax Energy will continue to offer WindStax turbines and ZeroFirst® microgrid systems. We added commercial solar, microgrid electronics, smart grid software, small hydropower, and natural gas micro turbines to our alternative energy solutions matrix.
WindStax Energy nano grid and micro grid systems are smart. They utilize wind and solar energy captured and stored in their battery storage systems first, reverting to utility power if the wind cannot keep up with demand. Once charged, they revert back to green energy. In that way you use green and free power first and utility power as back up. ZeroFirst®. Clever.
WindStax Energy systems have power on demand. The batteries store up to several days of energy using an advanced power management system. Output is 120/240VAC or 12/24V/48VDC. We also have high voltage DC options. The electricity is cleaner and more reliable than most utilities and can run everything from your furnace or air conditioner to sensitive electronics.
WindStax vertical wind turbines require no assembly. Each unit arrives fully assembled with the control systems ready to wire in. They do not require complex footings and foundations. High-performance batteries are in our microgrids are safe, spill proof and 100% maintenance free.
WindStax turbines are non-directional and needs little wind to start operating. That means the turbine works in ever-changing wind directions with speeds as low as 5 miles per hour. The unique low-rpm, high-torque rotor design continues to work safely in high wind speeds that force traditional wind turbines to shut down. Generally, annual average wind speeds of 10 mph or works great.
WindStax turbines are friendly to the environment. The generators have a small footprint, they are nearly silent and avian friendly. There have been no documented cases of bird, bat, or even bug kills with vertical axis turbines.
WindStax are friendly to your neighbors. The generators are silent, safe, and, frankly, beautiful. Their design blends into their surroundings while providing good, clean, and free electricity.
WindStax are government friendly. The units can be installed anywhere with a good wind approach. Most municipal zoning begins with regulations of towers and wind turbines above 60'. As equipment, they are not considered a permanent structure under most zoning regulations.
WindStax are portable. With little effort, the generators can be moved across the property or across the country. The WindStax 20 weighs 2200 pounds depending on the configuration. All WindStax generators fit within the confines of standard ISO shipping containers, keeping shipping costs reasonable.
WindStax Energy not only develops environmentally sustainable energy solutions, environmental stewardship drives our business practices. We believe in and practice sustainable development – meeting the needs of the present without compromising the ability of future generations to meet
their own needs.
Our products and processes at WindStax  are sustainable. The rotor is built using renewable material in a proprietary manufacturing process. All materials including the tower are recyclable and responsibly sourced steel and aluminum. We care about our workers too so we use strive for zero VOCs in the manufacturing process. WindStax use low carbon footprint materials, fasteners, components, and fabrication methods on a mission to achieve LEED, SCAQMD, CARB and VOC compliance.
Traditional horizontal axis wind turbines are complex machines comprised of thousands of components that involve an extensive international supply chain. WindStax uses a small fraction of that many components and has only three moving parts – and WindStax are made in the USA.
---